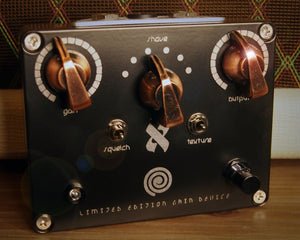 This year the Aleph is about asymmetry. The Texture Toggle is asymmetrically mixing UKR Germanium diodes in two positions with an LF351 OpAmp:



1.  Fairchild Silicon Diodes
2.  UKR Germanium + OPA
3.  UKR Germanium + Special


After much experimentation I fell in love with the "stickiness" of Germanium mixed with the Aleph's base fuzz tone. Combining Germanium asymmetrically with silicon diodes retains some of their character, without as much volume loss. There are also interesting overtones to be found with certain selections on the Squelch Toggle. Some light octave scramble aromas are conjured, and the upper-mids shift around. The Squelch toggle changes the bias of the Op Amp and intensifies the splat of the fuzz. It is unusual to use a OpAmp for fuzz, but in truth an OpAmp is just a whole slew of transitors, and if you figure out how to make them misbehave - well, you end up somewehere else...



I love this circuit and a version of it has made its way onto my personal pedalboard. Hear what it sounds like in THIS DEMO.



The Aleph Gain Device is $299 USD. It is limited to 20 pieces.